På väg till England / On the way to England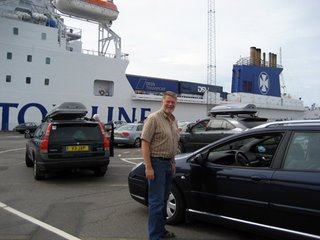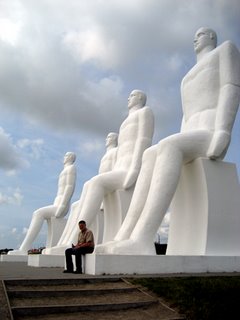 Efter en blöt morgon i Höör (40 mm regn) mötte vi solen när vi åkte över Fyn. Vi kom till Esbjerg redan vid 13-tiden och fick tid att finna 7 geocacher samt ett besök vid "Mennesket vid havet" - 4 nio meter höga vita män som tittar ut över inseglingen till Esbjerg - imponerande. Sen var det bara att ge sig iväg till Englandsbåten och vänta på att få komma ombord.
In Höör it was raining cats and dogs in the morning (40 mm rain) but when we came to Fyn we met the sun - hopefully a sign of good weather for the rest of the trip. We arrived in Esbjerg at 1:pm and had time to do some geocaching and to make a visit at the sculpture "Mennesket vid havet" - 4 nine meter tall men looking out over the sea - impressing. After that we went directly to the boat to England.