Från (from) Rugeley till (to) Otherton Boathaven - slutpunkten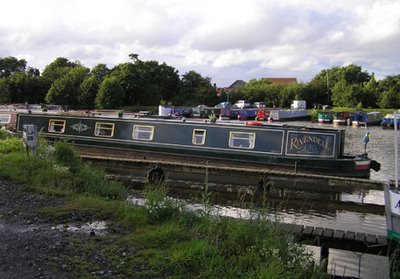 I dag har vädret verkligen varit omväxlande, från stilla regn till ösregn - och det regnar fortfarande. Våra regnkläder är snart uppslitna, men de har verkligen bevisat att de fortfarande är vattentäta.
Nu sitter vi "hemma" i Otherton efter att ha fått på torra kläder och är mätta och belåtna efter en god middag. I morgen blir det packning, storstädning, putsning av mässing, påfyllning av vatten o diesel m.m. På lördag skall vi träffa de andra ägarna vid det årliga "Owners meeting", och sedan bär det hemåt till Sverige.
Detta är slutet på denne bloggen, vi kommer att lägga in lite fler bilder och en sammanfatning av turen när vi kommer hem och hoppas att ni har haft nöja av att följa vår kanalfärd.
Today the weather has really been changing, from quiet rain to heavy rain - and it is still raining. Now we are back "home" in Otherton and is enjoying ourself after a good dinner. Tomorrow is for cleaning, filling with water and diesel etc. On Saturday we look forward to meet the other owners at the yearly Owners Meeting, and after that we have to go back to Sweden.

This is the end of this blog, when we come home we will add a few more pictures and a summary from the trip. We hope that youe have enjoyed to "participate" in our canaltrip.