Från (from) Crick till (to) Braunston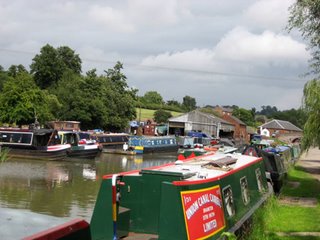 I dag var vi tidigt uppe för att skicka familien hem till Sverige. Men när taxin kom blev det lite panik i oss för chauffören berättade att det var kaos i trafiken på grund av en större olycka. Men allt gick bra och de kom iväg med flyget.
Det har varit en härlig tid och vi har njutit att ha barnen med ombord och vi saknar dem redan. Då de var med förra året var de bara fyra år gamla och då lekte de mest "inomhus" på båten, men i år då de var fem var de med i stort set allt som gick för sig och kunde också deltaga aktivt i de fleste slussningar och kunde öppna och stänga en hel del portar själv. Så det är bare att rekommandera: "ta barnen med på kanaltur".
Själv fortsatte vi mot Braunston. Början på dagen var regnig men senare blev det uppklarande och på kvällen kunde vi sitta i solen på båten och njuta lugnet och ett glas vin. Nu sittar vi och planerer åt vilket håll vi skall förtsätta, det mesta lutar åt att vi går ner mot Oxford.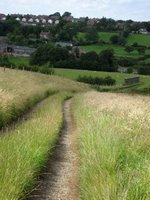 I eftermiddags gick vi på skattjakt (geocaching) i området och kom upp på en backe med en härlig utsikt över området.
Today we went up early to send the family home to Sweden. But when the taxi arrived there was a little panic because the taxidriver told us that there had been a serious accident on the motorway and that it would be a problem to get to Rugby in time. But everything went well and they catched their plane in time.

It has been a great time and we have enjoyed having the kids onboard - and we already miss them ;-) When they were with us last year they were only 4 years old and spend most of their time playing inside the boat. But this year when they were 5 they joined most of the activities on board and even managed to open and close many of the locks by themself. So it is just to recommend: "Bring kids with you on your canaltrip".

When they had left we continued towards Braunston. In the beginning it was raining a bit but later i cleared up and in the evening we could sit on the boat in the sunshine and enjoy the calm and a glass of wine. Now we are planning what to do for the rest of the trip and right now we think we will go down towards Oxford.

In the afternoon we went geocaching and walked up on a hillside with a very beautiful view over the area.