På (on) Northampton Arm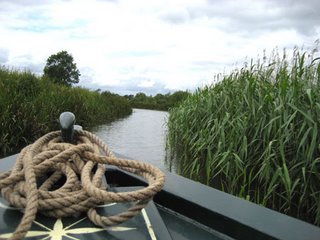 Det var fortfarende vackert på sista biten in till Northampton med näckroser, liljer och mycket vass. Men de få tilläggsplatser som fanns på kanalen var inte vidare trevliga. Vi kunde ha gått ner på River Nene där det fanns bättre platser men vi hade ingen licens för att segla på River Nene, så det var inte en möjlighet. Efter att ha handlat in beslöt vi därför att vända om och gick åter upp för de 16 slussarna.
The last part of the Northampton Arm was still very beautiful. But the only mooring that was available on the canal didn't look very comfortable. We could have continued down on the River Nene where there were better moorings, but we did not have a license for the River so that was not a possibility. After shopping we therefor decided to turn around and go back up the 16 locks again.