Från (from) Top of Hatton Locks till (to) Leamington Spa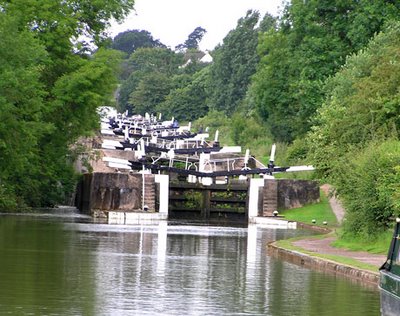 Många timmar med solsken i dag men det kom ändå ett par häftiga regnskurar, så det lyckades oss att få två sätt kläder genomblödta innan vi kom ner för Hatton Locks.
Väl framme i Leamington Spa träffade vi en annan båt med trevliga Skåningar som också var på kanaltur. På kvällen gick vi ut och åt på en indisk restaurant, mycket läcker mat. Summan av dagen blev 23 slussar.
Many hours with sunshine today but still a few heavy showers, so we succeeded in having two sets of clothes soaked before we were down from the Hatton Locks.

When we arrived in Leamington Spa we met another boat with friendly people from Sweden and in the evening we had a delicious dinner on an indian restaurant in the town. The days total was 23 locks.