Från (from) top of Stockton Locks till (to) bottom of Buckby Locks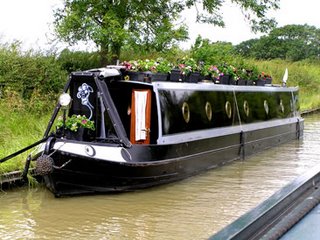 Sanne började dagen med ett ofrivilligt dopp i kanalen. Inget att anbefalla - det var både djupt, kallt och skitigt, så det blev ett extra besök i duschen ;-) (ingen kommentarer Lars!!)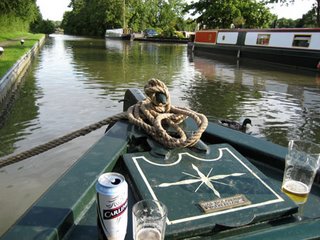 Annars var det en fin tur på kanalerna i dag, solen sken rätt så mycket och för första gången på turen satt vi ute på kvällen och njöt vår kvällsöl. Då vi passerede Braunston kom det en rejäl åskskur och det var såklart på ett ställe där det inte alls gick att lägga till. Så tills nu fortfarande inte en enda dag utan blöta kläder ;-) På eftermiddagen gick vi genom Braunston Tunnelen på 1800 m och fick vårt första möte i en tunnel - men det gick fint och det fanns plats för båda.
Sanne started the day with a dip in the canal. Nothing to recommend - it was deep, cold and dirty, so she needed an extra visit in the shower ;-)

Otherwise it was a great day on the canals today, the sun was shining pretty much and for the first time on the trip, we could sit outside and enjoy our evening beer. When we passed Braunston we had a heavy thunderstorm and of course it happened in a place where it was impossible to moore up. So till now still not a single day without having the clothes soaked ;-) In the afternoon we passed the Braunston Tunnel (1800 m) and had our first passing in a tunnel - no problem there were room for both.