Från (from) Market Harborough till (to) Crick
Förlåt att det inte blev någon inlägg i går, vi var på "slowfood" restaurant i Crick och kom sent hem ;-)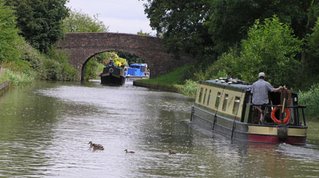 Vädret var kallt och inte mycket sol förän på eftermiddagen. Ungdomerna skulle resa hem tidigt torsdag morgon och hade bestämt sig för att ta en taxi från Crick till Rugby och sen vidare med tåg till Birmingham Airport, så vi höll full rulle hele dagen och han hele vägen innan kvällen (10 slusser och 38 km).
Sorry that we did not write in the blog yesterday, we were on a "slow food" restaurant and didn't come home until late ;-)

The weather was cold and we did not get any sun until in the afternoon. The family was going to go back to Sweden early Thursday morning and had decided to take a taxi from Crick to Rugby and then continue with the train to Birmingham International. So we went on at "full speed" all day and managed to get to Crick in the early evening (10 locks and 38 km).