Från (from) Weedon Bec till (to) Crick
I dag började vi på Grand Union Leicester Arm, en mycket vacker och lugn kanal. Vi gick igenom 4-stegs slusstrappan vid Watford Locks. Det var skönt att komma tilbaks på en smal kanal igen och slussporterna var så lätta att barnen kunde öppna och stänga dem på egen hand. Vi passerade Crick tunneln som är bred och mycket våt invändigt och stannade till i Crick där det finns många fina tillägsplatser.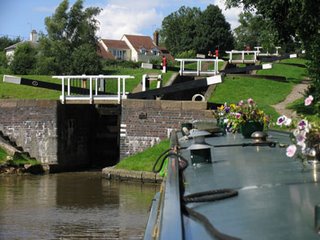 Today we started on the Grand Union Leicester Arm, a very beautiful and quiet canal. We passed the 4-step staircase at Watford Locks. It was great to be back on the narrow canals and the lockgates were so easy to handle that the kids could open and close them all alone. We passed the Crick Tunnel that is broad and very wet and moored for the night at Crick.