Från (from) Gayton Junction to (till) Weedon Bec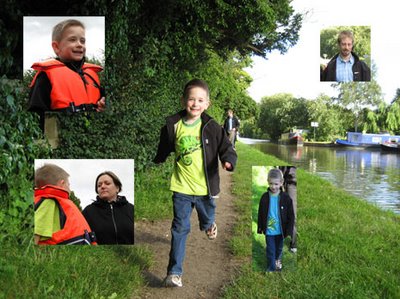 Dagen började med storstädning - vi skulle få främmande ;-) Under tiden hade vi roligt med att titta på männen på Alvechurch Boats som hade problem med att få uthyrningsbåtarna manövrerade runt på grund av den hårda blåsten.
Vid lunchtid ankom Fredrik, Helen, Noah och Hannes (Mats barn o barnbarn) från Sverige. De skall segla med oss den kommande veckan. Alla ville gärna iväg, så efter lunchen gick det åter norrut. Vi hade en del problem med blåsten och var när på blåsa iväg mot London i stället för att vända fören norrut.
We started the day cleaning the boat - guests were expected ;-) In the meanwhile we enjoyed looking at the men at Alvechurch Boats who had troubles manoevering the hireboats because of the hard wind.
At lunchtime Fredrik, Helen, Noah and Hannes arrived (Mats' children and grandchildren) from Sweden. They will join us on the boat during the next week. Everybody wanted to get going, so after lunch we started towards north. We had some troubles in the hard wind and almost blew towards London instead of turning the front towards north.