Från (from) Claydon Locks till (to) Banbury
I dag kom vi tidigt iväg, meterologerna hade varnat för ett förskräckligt oväder med regn och åska och himmelen var svart och hotande. Men det blev inget av det och det blev en varm och fin dag i stället. Vi kom till dagens mål Banbury tidigt på eftermiddagen - en mycket trevlig stad med fina tillägsplatser som vi också besökte förra året. Vägen dit var trång men fin bland annat omkring Copredy där kajakklubben hade träning mitt bland de stora båterna.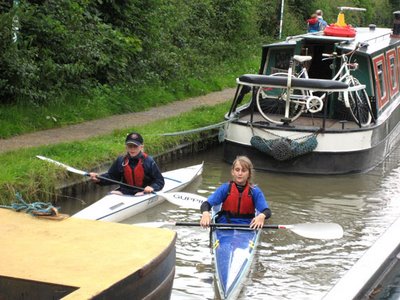 We had an early start today, the mets had warned for a terrible weather and the sky was black and treatening. But nothing happened and we had a warm and nice day instead. We arrived at Banbury in the early afternoon - a very charming town with good mooringplaces where we also spend a few days on last years trip. The way to Banbury was beautiful but narrow, escpecially around Copredy where the local cajak club was practicing mid among the big boats.