Från (from) Braunston till (to) Marston Doles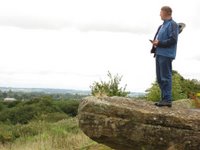 I dag började vi turen ner mot Oxford, varmt med stilla regn det meste av dagen. Vi fortöjde med en del besvär mitt på kanalen och gick en "public footpath" upp mot Napton Hill där vi hittade en skatt (geocache). Slussarne vid Napton gick som en dans och vi fick den sista lediga mooringplatsen övanför toppslussen.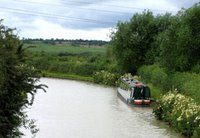 Today we started our trip towards Oxford, warm and light rain most of the day. We moored with some troubles on the "middle" of the canal and went on a public footpath up towards Napton Hill where we found a geocache. Then locks at Napton were easy and we got the last free mooringplace above the toplock.