Från (from) Ansty till (to) Hinckley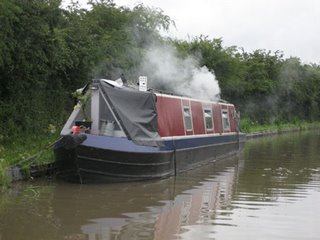 Det regnade hela natten och när vi vaknade hade det ändrat sig till duggregn och så fortsatte det nästan hela dagen. Vi har ingen uppfattning om hur mycket det kom, men det måste ha varit stora mängder (se bilden med hästarna på väg hem från betet). Överallt låg kolröken tung över kanalen för alla hade fyr i spisarna.
Vi gick in på Ashby kanalen som visade sig att vara mycket vacker men inte alls så öde som vi trodde. På kvällen kom Andrew Denny från NB Granny Buttons och hälsade på, han såg att vi höll på att söka trådlöst nätverk ute på däcket av båten. Andrew Denny håller själv på att
blogga
om de engelska kanalerna.
På kvällen hade det äntligen upphört att regna och vi gick en tur i Hinckley och åt en jätteglass på puben i den nya marinan.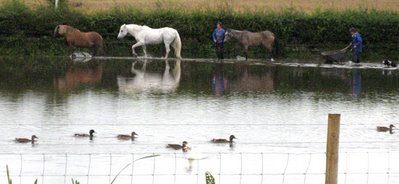 It rained all night and when we woke up it has changed into a dizzle that continued most of the day. We don't know how much rain we got but it must be quite a lot (see the photo with the horses on their way back to the farm). The coal smoke hang heavy over the canal because most of the boats was using their stoves.
We started on the Ashby Canal that turned out to be very beautiful but with much more traffic on the canal that we had expected. In the evening Andrew Denny from NB Granny Buttons and said hello, he saw that we were searching for wifi out on the deck. Andrew Denny is writing his own
blog
about the British waterways.
In the evening it finally had stopped raining and we went for a walk in Hinckley where we had an enourmous icecream at the pub in the new marina.